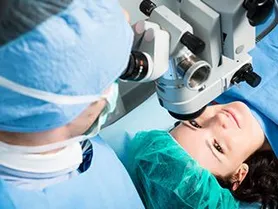 Vision is one of our most important senses. That is why everyone should get a yearly eye exam to ensure that the eye is healthy and that there are no vision issues. At Chapel Hills Vision Clinic, we have been helping residents of Colorado Springs, CO meet their optometry needs for over thirty years. Our optometric physicians, opticians, and the rest of our staff make sure that all patients get the best care possible while checking for underlying issues that can affect the eyes like high blood pressure and diabetes. During the exam, we will also screen for health issues like glaucoma, cataracts, and macular degeneration. Some of these conditions are best addressed through retinal surgery.
How Do You Know if You Need Retinal Surgery?
Those that have experienced retinal detachment are in a very crucial situation. It occurs when the tissue on the back of the eye (the retina) moves from the proper position. This is retinal detachment. It occurs when the retina is no longer getting oxygen or nourishment from the eye. It is a critical situation and needs immediate treatment. The longer the retina goes with no oxygen, the bigger the risk for permanent vision loss.
Symptoms of a Detached Retina:
According to Mayo Clinic, those experiencing the symptoms below should seek the care of their optometry expert to check for retinal detachment.
The appearance of floaters which are small dots that drift through the field of vision
Flashes of bright light in one or both eyes (photopsia)
Blurred vision
Impaired peripheral vision
Shadows in the field of vision
Those that are experiencing some or all of these symptoms should seem immediate care to save their sight.
Risk Factors for Retinal Detachment
According to The National Eye Institute, some factors may make some people more susceptible to retinal detachment than others. These factors include:
Aging
Detachment in the other eye at an earlier time
Family history of retinal detachment
Nearsightedness
Eye surgery such as cataract removal
Severe eye injuries
History of eye disease
The best way to stay on top of all eye issues is to visit an optometrist at least once a year, allowing our eye doctor to intervene before vision loss is allowed to occur.
Contact Us for Retinal Surgery in Colorado Springs, CO
Our expert team at Chapel Hill Vision Center uses the newest procedures when conducting eye surgery. Those that need vision correction or are concerned about their overall eye health should contact our team today. For more information or to schedule an appointment with our optometry professionals, call us at (719) 599-5083.